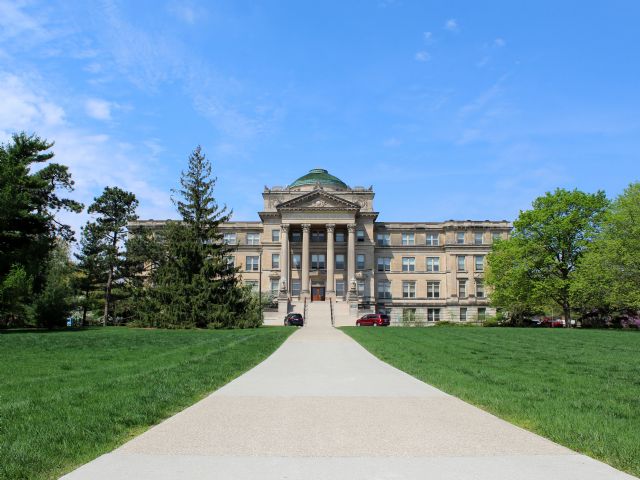 Beardshear Hall
Official abbreviation:
BDSHR
Constructed in 1906

Space in this building
104,292 total square feet
Emergency Maps from Environmental Health and Safety
Building Open Hours
These don't reflect business hours for offices within the building; see office websites for business hours.
Monday
Tuesday
Wednesday
Thursday
Friday
Saturday
Sunday

6:00 AM

-


6:00 PM

6:00 AM

-


6:00 PM

6:00 AM

-


6:00 PM

6:00 AM

-


6:00 PM

6:00 AM

-


6:00 PM

Closed

Closed
Services / Maintenance / Projects
History
Almost immediately after a fire in 1900 damaged the north wing of Old Main, the principal building on Iowa State's campus, discussion about the construction of a new building began. There was consensus that a new building was needed, but a suitable location was difficult to find. A second fire to Old Main in 1902, this time destroying the building in its entirety, effectively answered the question of where to locate the new building - right where Old Main had been.
Because of the fires in Old Main, fire proofing of the new building was a high priority. As a result, fire proof buff Bedford stones were used extensively in the construction of the new Central Building. Massive scagliola columns were used in the interior, columns so like marble that even experts were deceived. The building materials were so fireproof that only the hardwood furniture was capable of burning.
The Central Building originally housed the Office of the President, the Departments of English, Mathematics, Botany, History, Modern Languages, and Elocution, the Office of the Secretary and Treasurer, and the Office of the Board of Trustees. In 1938 the building was renamed Beardshear Hall, after William Beardshear, the president of the institution during the planning and construction stages of Central Building. By the mid 1970s all classes in Beardshear Hall had been relocated to other buildings on campus, leaving the Office of the President and the Office of the Provost, and the Office of the Vice President for Business as the most prominent offices in the building. Other offices directly impacting student life still located in Beardshear hall include the Office of Student Financial Aid and the Office of the Vice President for Student Affairs.