Recycling Initiatives
---
Solar-Powered BigBelly Recycling Compactor
In 2013, as part of our recycling initiatives, we introduced an online smart technology recycling system known as solar-powered BigBelly recycling compactor which is a system to effectively manage recyclables generated outside of our campus buildings. This is to support the already installed solar-powered BigBelly trash bins to divert our recyclables from going to the landfill. Some of its advantages is that it provided the opportunity to digitally monitor the content of the compactor online to know when it's full and needed to be emptied which has reduced labor costs and emissions from truck pickups, provided the capacity to hold five times more recyclables than previous receptacles; and have also added some aesthetic value to our campus.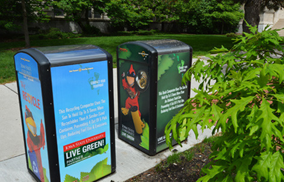 Towards a Zero Waste Campus
In Facilities Planning and Management, our focus is the continuous promotion of the three Rs'- Reduce, Reuse and Recycle which is very vital in achieving an effective waste minimization/zero waste program. We are committed to the establishment of a sustainable campus through promotion of the reduction of waste produced, reusing materials as much as possible and as well recycling materials into new products.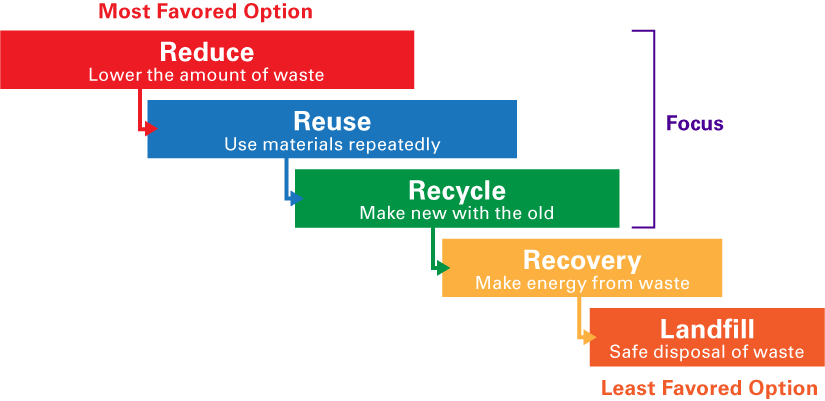 Reduce Waste Generation
Waste reduction/minimization can only be possible when waste generators do not produce the waste in the first place or possibly reduce it as much as possible. This is the foundation of any waste management program. Once a waste is identified, throwing it in the trash should not be the first thing but rather ask if it may be reused or recycled. We strongly encourage all Iowa State Faculty, staff and students to only buy what they need as well as always look for ways to reduce consumption, thereby lowering their carbon footprint.
Reuse Programs
Iowa State University offers several reuse opportunities to students, faculty and staff for items they would otherwise consider waste and send to the landfill.
Through the Iowa State University's Surplus Program, a variety of supplies related to campus offices and operations (furniture, equipment etc.) that are deemed unwanted by one department and/or unit can be and have been utilized by another department and/or unit rather than thrown away. This program initiative has saved more than $250,000 of reusable assets into university operations on an annual basis. In addition to being utilized for campus operations, surplus items are also offered for sale to university employees and students, as well as community members and businesses during weekly public sales.
Another reuse program opportunity is the Move Out Donation Program managed by the Department of Residence which is an annual spring move-out collection event in which any reusable item (clothes, furniture, electronics, food, cleaning supplies, etc.) is collected for redistribution to community shelters, food banks and non-profit organizations. Other initiatives under the reuse program such as t-shirt collection, community clothing, book and FreeCycle swaps, textbook collection and Iowa State Dining's donation of "day-old" items from five of its campus cafes to community programs and organizations improves our campus waste diversion goals.
Other Initiatives
Boosting the recycling presence on campus and promoting steps towards achieving waste reduction, efforts are centered on:
Increasing recycling visibility both indoors (e.g., common spaces, hallways, classrooms) and outdoors
Developing an all-encompassing and engaging recycling program that involves collaborating with all campus stakeholders including faculty, staff, students, departments/units and visitors
Developing and maintaining consistency with recycling bin designs and signage across buildings, resulting in easy-to-understand communication about our recycling process on campus
Developing a comprehensive waste reduction/diversion plan, which will be a guiding policy towards achieving the ultimate goal of becoming a zero-waste campus in the future