Energy Consumption Benchmarks for Building
How to use the information?
Select a building on campus you would like to observe from the selection box above, then click on the meter for Electric, Steam, Chill Water usage, or Sewage Discharge.
Some buildings may only have one or two components of energy usage others may have more.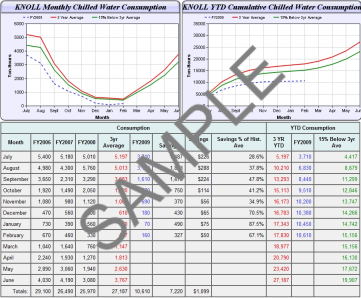 A line chart plots an energy consumption graph line for:
Average for three years
(Red)
Current usage
(Blue)
15% reduction graph line as a stretch goal to achieve energy savings
(Green)
One chart displays month to month consumption, the other a cumulative year to date total.