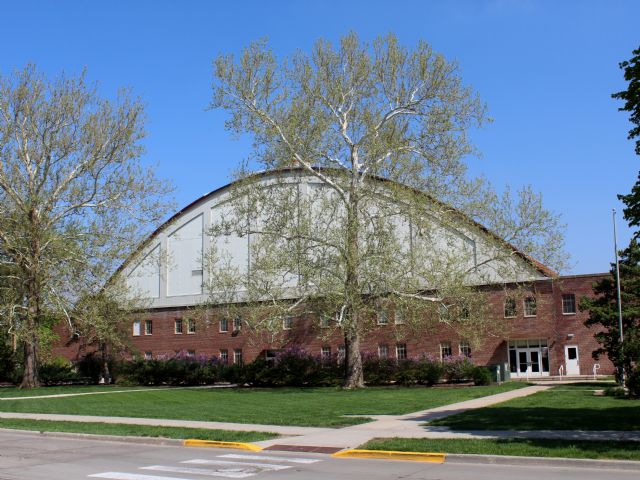 Armory
Official abbreviation:
ARMORY
Constructed in 1924
Addition built in 1941
Space in this building
89,563 total square feet
Emergency Maps from Environmental Health and Safety
Building Open Hours
These don't reflect business hours for offices within the building; see office websites for business hours.
Monday
Tuesday
Wednesday
Thursday
Friday
Saturday
Sunday

12:00 AM

-


12:00 AM

12:00 AM

-


12:00 AM

12:00 AM

-


12:00 AM

12:00 AM

-


12:00 AM

12:00 AM

-


12:00 AM

12:00 AM

-


12:00 AM

12:00 AM

-


12:00 AM
Services / Maintenance / Projects
History
There are some who maintain that the Armory has seen more of campus life than any other building at Iowa State, and they may well be right.
The Armory got a pretty shaky start. It was completed in 1920, but burned almost completely down in December of 1922. In those two short years the Armory demonstrated its importance to Iowa State, and in 1923 it was rebuilt to original specifications with one modest change; an additional allocation to make the rebuilt Armory fireproof!
Over the years, almost every recognized student activity has been held in the Armory, from freshman convocation to graduation. When basketball and wrestling became too large for State Gym, they moved to the Armory. In addition, dances, concerts, recitals, road shows, the Christmas Festival of Music, and Stars over VEISHEA have all been held in the Armory.
Though many of Iowa State's traditional activities have now moved to the Iowa State Center, the Armory is still used by academic departments for classroom space, the three ROTC programs at Iowa State, and the university's Department of Public Safety.