Hoover Hall
Official abbreviation: HOOVER
Constructed in 2004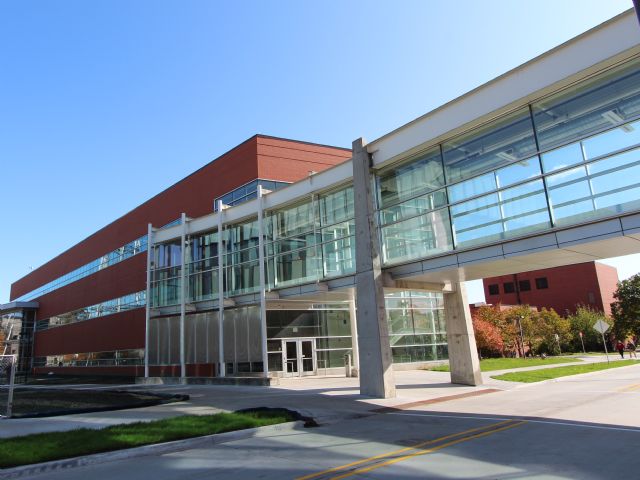 Building Open Hours
These don't reflect business hours for offices within the building; see office websites for business hours.
| Mon | Tue | Wed | Thu | Fri | Sat | Sun |
| --- | --- | --- | --- | --- | --- | --- |
| 6 AM - Midnight | 6 AM - Midnight | 6 AM - Midnight | 6 AM - Midnight | 6 AM - Midnight | 6 AM - Midnight | 7 AM - Midnight |
Location
528 BISSELL RD
AMES, IA 50011-1096
Latitude: 42.02674
Longitude: -93.65110
---
Services / Maintenance / Projects
---
---
Team Supervisor: Tamie Knoll
Custodians: Nolan Christensen,Holly Plummer
---
10:50 AM: Collection / Delivery (Room 1350)
History
It is clear when you enter the light-filled Gary and Donna Hoover Hall that, more than its state-of-the-art auditorium, classrooms, and laboratories, this magnificent new facility is a tribute to hundreds of alumni who care deeply about Iowa State University. You can feel the connection and sense the history in hallways whose large windows open to views of fountains trickling over a marble wall toward Marston Water Tower, which supplied water to the campus in its early days. The fountains are a feature of the H. H. Henningson Plaza, a gift from Chuck Durham to honor his father-in-law, who graduated from Iowa State in electrical engineering in 1907. Home to the Department of Materials Science and Engineering and Engineering Computer Support Services, as well as labs for the Industrial and Manufacturing Systems Engineering department, the new $27 million facility was made possible by a gift from Gary Hoover (BS ME '61) and his wife Donna. Iowa State's first "sky bridge" connects Hoover with the first phase of the ETRC, Howe Hall, a $35.5 million facility completed in 1999 and named for benefactors Stanley Howe (BSE '46) and wife Helen, major contributors to Hoover Hall as well. Hoover Hall was designed by Brooks Borg Skiles, construction completed in 2004.