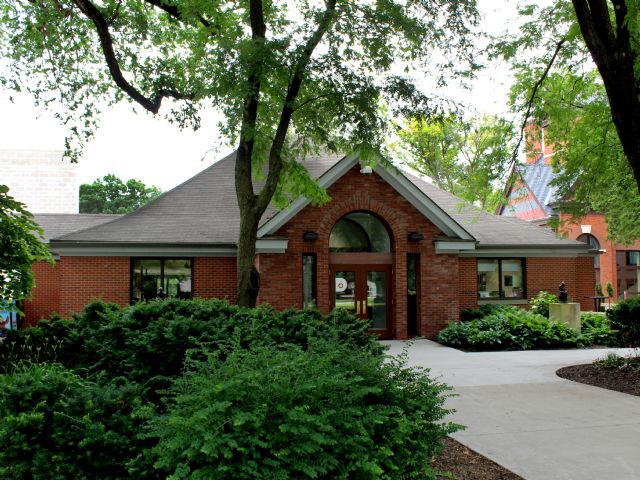 Hub
Official abbreviation:
HUB
Constructed in 1892
Additions built in 1944, 2008
Space in this building
5,978 total square feet
Emergency Maps from Environmental Health and Safety
Building Open Hours
These don't reflect business hours for offices within the building; see office websites for business hours.
Monday
Tuesday
Wednesday
Thursday
Friday
Saturday
Sunday

7:00 AM

-


8:00 PM

7:00 AM

-


8:00 PM

7:00 AM

-


8:00 PM

7:00 AM

-


8:00 PM

7:00 AM

-


5:00 PM

Closed

Closed
Services / Maintenance / Projects
Monday: between 7:30 AM and 9:30 AM
Tuesday: between 7:30 AM and 9:30 AM
Wednesday: between 7:30 AM and 9:30 AM
Thursday: between 7:30 AM and 9:30 AM
Friday: between 7:30 AM and 9:30 AM
History
The Hub was built in 1892. It was originally a bookstore, post office and waiting room for the Ames College Railway. When the railway was discontinued in 1908, the Hub was moved from its original location, which was in front of Marston Hall, to its current location just west of Morrill Hall. In 1920 an addition to the north side of the structure was built for the bookstore and post office since the building no longer served as a depot. A 20 x 60 foot Civilian Conservation Corps (CCC) building from the College Farm Service area was added on to the north end of the Hub and another addition in 1952 was added to the east side of the north end of the previous addition. Although the bookstore moved to the Memorial Union in 1958, the Hub continued to serve as a post office until 1963. The Hub also served as a ticket office for campus functions until 1964. In 1967 a copy center was added. In 1970 the university traffic office occupied the north section of the building and still does today.