Enrollment Services Center
Official abbreviation: ENRL_SC
Constructed in 1907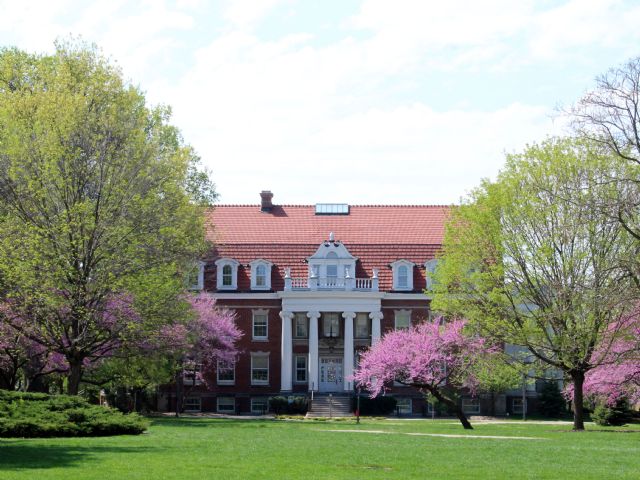 Building Open Hours
These don't reflect business hours for offices within the building; see office websites for business hours.
| Mon | Tue | Wed | Thu | Fri | Sat | Sun |
| --- | --- | --- | --- | --- | --- | --- |
| 7 AM - 6 PM | 7 AM - 6 PM | 7 AM - 6 PM | 7 AM - 6 PM | 7 AM - 6 PM | Closed | Closed |
Location
2433 UNION DR
AMES, IA 50011-2042
Latitude: 42.02523
Longitude: -93.64931
---
Services / Maintenance / Projects
---
---
---
9:55 AM: Collection / Delivery (Room 0014C)
2 PM: Collection only (Room 0014C)
3 PM: Collection only (Room 0014C)
---
Tuesday: between 7:30 AM and 9:30 AM
Thursday: between 7:30 AM and 9:30 AM
History
The Enrollment Services Center building has undergone a number of name changes throughout its long history. When construction began in 1904, the building was initially named Christian Association Hall. The name changed to Alumni Hall in 1905. The Alumni Hall name remained in place for more than 100 years until it was changed to the Enrollment Services Center in 2008.
The cornerstone was laid in 1904 after many years of planning and fundraising. However, construction was halted in 1905 when funds ran out. The building sat vacant and uncompleted for two years until Laverne Noyes (of Lake Laverne fame) agreed to cover the costs to complete the building with the understanding that it be called "Alumni Hall", that the Alumni Association get the use of the building once a year and office space year round, and that it be open to all students on campus.
Throughout its history, the building was used for many purposes: until 1914, it housed the only swimming pool on campus in its ground floor. It was used as an infirmary during a flu epidemic in 1917. A dining hall called College Inn flourished in the early 20's. During 1927-1937, remodeling was done to make more student rooms, including the installation of "double deck" beds to free up floor space. Game rooms, study rooms and offices were added. Later, the Quarterstove Café proved a popular dining spot. All the while, students lived, studied, and socialized in Alumni Hall.
In 1966, the building was placed on the National Register of Historic places. In 1986, the Board of Regents granted ISU approval to acquire the building from the Alumni Hall Corporation Board of Directors. In 1987, the last residents moved out, and a $2.1 million dollar historic remodeling was undertaken.