Single Stream Recycling
Single stream recycling allows all recyclables to be placed in the bins for recycling rather than sorting them individually. These collected materials from campus are taken to a Materials Recovery Facility (MRF) in Des Moines where they are sorted and sold to markets as raw materials to produce new products. Single Stream Recycling at Iowa State is designed to increase the ease and convenience of recycling, encourage more participation, and save resources by reducing waste. Campus-wide single stream recycling is offered to all students, faculty, and staff in academic and campus residential buildings.
Textbooks, journals, hardcover books etc. should be recycled and not thrown into trash bins. Please DO NOT put these heavy items in the blue recycling bins but rather box them and submit an online pickup request. This is to avoid injuries for custodial staff who hauls these bins to the loading dock for recycling.
Accepted items
Note: Clean food and drink containers to avoid contamination and accumulation of pests.
White and colored paper
Magazines and newspapers
Phonebooks
Paperboard
Paper bags
Food/beverage glass bottles
Milk cartons
Plastics #1 through #7
Aluminum, tin, and steel cans
Not Accepted
Food waste
Plastic bags
Foam cups
Liquids
Films
Plastic wrap
Plastic straws
Foam containers
Plastic eating utensils
Bin Types
There are three recycling bin types:
7 gallon: For personal use or a small shared space
25-32 gallon: For multiple-user areas, such as labs
55 gallon: Serves building-wide and is centrally located
To request a bin: Submit a Recycling Bin Request.
Bin Labels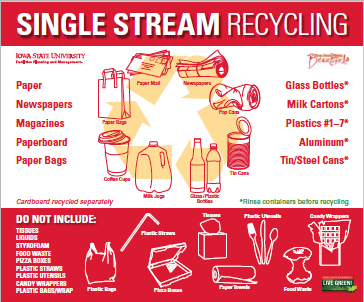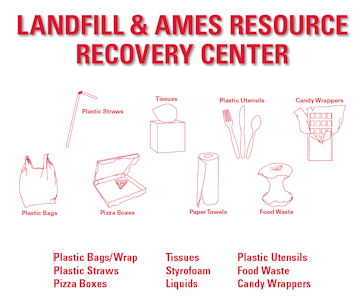 Bin Locations
The campus-wide single stream recycling program currently involves over 100 buildings.
Collection Dates
Participants empty their own 7 gallon and 25-32 gallon bins into the large 55 gallon bin. Custodial staff or building recycling liaisons empty the large 55 gallon bins.
Pick Up Schedule: Tuesdays for high volume buildings and by request for low volume buildings.
For a pick up request or to adjust the collection schedule: Submit a Single Stream Pickup Request.
---
Rate
$20 per month per bin for a weekly pickup.
---
Department of Residence Single-Stream Dumpsters
If you need to have an additional pickup outside of the regular schedule, use this form: