Furniture Purchase and Installation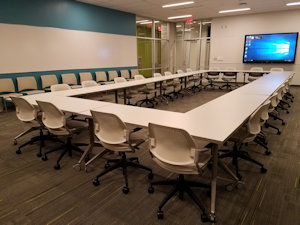 Furniture must be purchased through Facilities Planning and Management in accordance with Iowa State University policy. Iowa State has a contractual agreement with Workspace Inc. to supply Steelcase furniture product lines.
---
Furniture Project Process
Request Furniture/Ordering
To begin your furniture request, start by filling out a Famis360 work order online. Furniture requests are routed and assigned to an Interior Designer. The designer will meet with you to discuss specific designs and needs, take space measurements, determine budget, and any potential schedule issues. Steelcase has several pricing levels of furniture to meet the needs and budgets of all departments, no matter the space you are looking to design.
Task (desk) chairs are the exception to the policy and should be ordered through Procurement Services.
Delivery/Install
We work with you to ensure furniture adequately fits the space and can easily be assembled and installed. Orders are delivered and installed by Workspace Inc.
In order for your installation to go as quickly and efficiently as possible, remember the following:
Remove your computer, phone and any other technology from your desk ahead of time. Contact your departmental IT support or central IT to arrange removal and reinstall.
Empty all drawers, including any file drawers.
Remove and safely stow personal items.
Previous Furniture Disposal
If you are planning to dispose of property afterwards, we encourage you to fill out the Excess Property Form through Logistics and Support Services ahead of time. For information on proper disposal, please see the university policy on disposal.
---
Warranty
All furniture purchased through FPM is commercial grade, comes with a manufacturer's warranty, and meets the safety standards of office furniture.